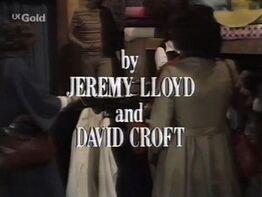 David Croft OBE co-wrote the Are You Being Served? scripts with Jeremy Lloyd , as well as producing and directing the series.
Sadly David Croft passed away in his home in Portugal on 27 September 2011, aged 89.

Development notes
It's unclear why this slider it isn't working, because it's coded according to Help:Sliders (and this modified version of the Wikia standard help file). It seems to slightly fall short of Help:Galleries and slideshows, though. A possible clue is that the pictures involved might have to be exactly 673px X 410px, which obviously means custom cropping.  czechout ☎ ✍  00:45, January 23, 2011 (UTC)
And that's exactly what the problem was. The pictures need to be exactly the dimensions given above. Might be possible for them to be bigger (i.e., might be the minimum dimensions). Don't know yet. But certainly 673 x 410 works well. That's not a huge problem on the new series, cause that describes a basically widescreen ratio that's a little less that 16:9. But it's a bit of a challenge for classic series dimensions. Resizing a full frame of a classic series episode will make it appear distorted, to one degree or another, so you have to actually do some cropping to get the picture close to widescreen first.  

czech

out

☎ ✍  01:34, January 23, 2011 (UTC)

I've now tested this on the main page, and I can't see it working for us, unless we radically redesigned the page. It's just picture overload. Plus, it's almost exactly the width of the left column, so it gets crowded fast. And you can only have four pictures, so how would we usefully reduce our wiki to four pages? One for each of the main shows? DW, K9, SJA and TW? Thing is, we don't have equal content for each show. DWU, behind the scenes, merchandise and stuff related to the Tardis Index File? I dunno, it's just such a tough choice. A slider might be good elsewhere on the wiki, like on some category pages, but I'm not sure how we make it work on the front page. Transferring to category:Template sandbox.  

czech

out

☎ ✍  02:38, January 23, 2011 (UTC)
Ad blocker interference detected!
Wikia is a free-to-use site that makes money from advertising. We have a modified experience for viewers using ad blockers

Wikia is not accessible if you've made further modifications. Remove the custom ad blocker rule(s) and the page will load as expected.