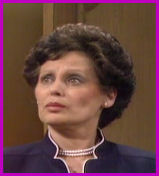 Diana Lambert
(1929-1995) was an English actress who portrayed
Captain Peacock
long-suffering and jealous wife. She was the second actress to portray Mrs Peacock - the first was
Diana King
. Lambert also played a customer earlier in the series.
Appearances
Edit
Fifty Years On (1976) - in this episode, Lambert played a customer.
Grounds For Divorce (1985) - her first appearance as Mrs Peacock.
Mrs Brahams Jr is her next job as she works with Mrs Slocombe
Ad blocker interference detected!
Wikia is a free-to-use site that makes money from advertising. We have a modified experience for viewers using ad blockers

Wikia is not accessible if you've made further modifications. Remove the custom ad blocker rule(s) and the page will load as expected.