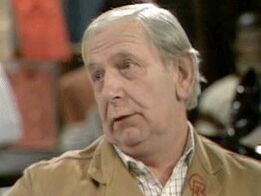 Mr Beverley Harman was portrayed by Arthur English between 1976 and 1985.
Funny Phrases
Edit
- It's instant coffee. So called because there's only one instant when it tastes like coffee.
- I'm glad I haven't got your nerve in my tooth!
Father to Eastenders character Dennis Rickman
Ad blocker interference detected!
Wikia is a free-to-use site that makes money from advertising. We have a modified experience for viewers using ad blockers

Wikia is not accessible if you've made further modifications. Remove the custom ad blocker rule(s) and the page will load as expected.